Irish Insights: The Best Linebacker In College,Coach Kelly, Recruiting
Jaylon Swipes Another...
The best linebacker in college football.
Now it's out there.
But the football world has been made well aware of the All-World backer for about a full year now.
His freshman season was highlighted by his play during the Arizona State game in Dallas where he tallied 9 tackles with 1 credit for a loss and a forced fumble.
During high school, and most of all at the Army All-American game- Smith was placed not only as a backer but also as an end on a few plays.
Smith also blocked a field goal in the annual match pitting the best players in the nation from high school's across the country.
And his list of accolades just keeps growing.
Smith has been named to Phil Steele's 2014 All-American 2nd Team to add to a growing list already:
• Bednarik Award Watch List (2014)
• Nagurski Trophy Watch List (2014)
• Butkus Award Watch List (2014)
• Lombardi Award Watch List (2014)
• Lott IMPACT Trophy Watch List (2014)
• Notre Dame Defensive Newcomer of the Year (2013)
• College Sports Madness Independent Defensive Player of the Week (10.27.13)
Kelly Quotes...
Over the last couple of weeks, some interesting storylines have developed within the social media outlets.
Speculation of benching the starting quarterback has ignited a battle between many, with a split opinion on either starting.
1 of the hottest topics included possible suspensions of 2 backs, and coming off the heals of 5 previous related suspensions, Kelly addressed the topic:
"We have no players that have done anything that have put them in jeopardy of suspension."
On both quarterbacks and their prep for the bowl game and splitting reps:
"No, I think we have to, obviously, go into that practice with a mindset of getting Everett and Malik both an opportunity to show what they're made of and how they're going to compete and allow us to the opportunity for them to both grow, but at the same time, see what competition looks like from that standpoint true competition. Because, obviously, this was not a competitive situation during the year. Malik was the backup, and I think I made that pretty clear. We're going to let them compete, and we'll see where that puts us come game time."
Recruiting Rumblings...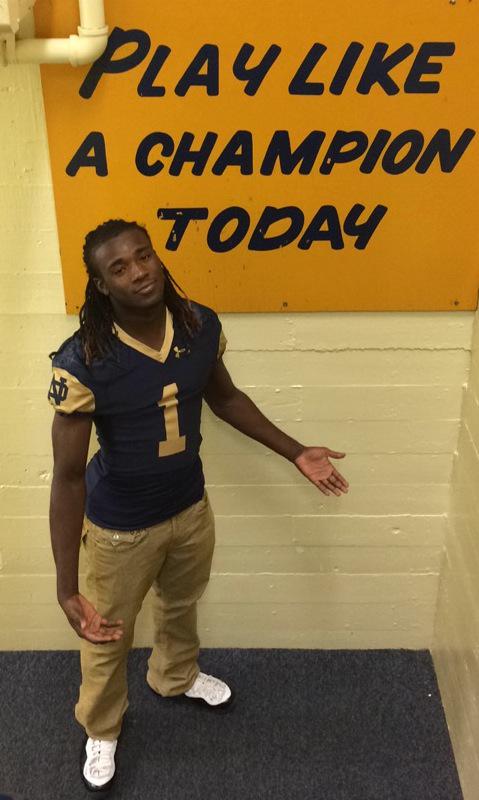 Over the last few weeks, a top back in the country has surfaced as a possible pledge to the Irish 2015 class.
The former Oklahoma State Cowboy pledge recently visited Notre Dame and later pulled his commit.
Big news considering the Irish currently have a lone pledge in the 2015 class and starter Cam McDaniel has played his last snap in South Bend- leaving the Irish with just 2 proven starters in Greg Bryant and Tarean Folston.
Jones,like McDaniel- plays within the state of Texas's largest ruling class, which generally speaks volumes when gauging recruits from the Lone Star state.
"To my OSU fam, I'd like to thank you all for supporting and believing in me. However, I have decided to open up my recruitment"
Rivals.com ranks Jones (5-10, 182) as the ninth-best running back in the nation in the Class of 2015. He was named an Under Armour All-American this year.
Jones missed time this season with an ankle injury, but he still rushed for 2,009 yards and 28 touchdowns, averaged 8.4 yards per carry and helped McKinney North reach the Class 5A Division I state quarterfinals. In 2013, he rushed for 2,406 yards and 39 touchdowns and averaged 9.9 yards per carry.