The Detroit Lions: 2014 Final Report Card
Offense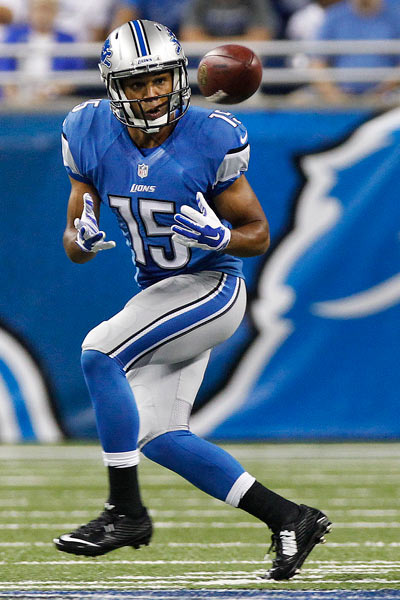 The Lions were well-known for having one of the most productive offenses, at least in terms of yardage, but they took a step back. The Lions ranked just 12th in passing while Matthew Stafford recorded his lowest yardage total (4,257) since 2010. He also threw just 22 touchdowns, as opposed to 29 in 2013 and 41 in 2011. On the bright side, he threw just 12 picks after throwing an average of 17 in his previous three years.
The receivers performed well this year, with Calvin Johnson topping 1,000 despite missing time due to injury while Golden Tate had a career year, with 99 receptions for 1,331 yards.
What this offense was really missing was their rushing attack, with Reggie Bush dealing with injuries and Joique Bell struggling early on. When Bush was in, his production was inconsistent while Bell was not able to take advantage of his increased workload. Neither back recorded over 500 receivers yards as they had last year and both averaged under four yards a carry.
The Lions averaged just 20.1 points per game, which puts then just ahead of the Bears and two spots behind the Vikings. If the Lions are to become consistent playoff contenders and play with the likes of Green Bay, they have to put more points on the board.
Grade: C+

Defense
This was arguably the most surprising unit this year, as they had often struggled beforehand. They were considered among the most potent and young, but most still anticipated that they would fall in the bottom half in the league.
Despite missing key cog Nick Fairley for half of the season, the Lions' defense ranked first against the run, allowing just 69.3 yards per game and 3.2 yards per carry. Ndamukong Suh and Ezekiel Ansah were an imposing duo up front, but this unit was led by sixth-year linebacker DeAndre Levy.
With an unproven secondary, the Lions were expected to struggle mightily against the pass. However, they held their own for much of the year, tying for third in the league with 20 picks while holding opposing quarterbacks to a passer rating of 83. The pass rush was there too, with 42 sacks on the year. Perhaps the biggest impact though, was the amount of players that stepped up in the secondary. Second-year corner Darius Slay really struggled in his rookie season, but turned it around this year, while aging vets Glover Quin and James Ihedigbo picked up the pace at the safety positions.
The reason that this team was able to win so many games was how well their defense was able to shut down opposing teams in terms of points. The Lions allowed an average of just 17.6 points per game, ranked just behind the Seahawks and the Chiefs.
Grade: A+

Special Teams
This was the Lions' biggest issue for most of the year, as they had already gotten rid of two kickers by the end of Week 5. Luckily for them, the Broncos cut Matt Prater in favor of Brandon McManus, who was later cut in favor of Connor Barth. Prater, who missed the first five weeks of the regular season due to a suspension, was definitely an upgrade over Nate Freese and Alex Henery, but still struggled a bit, missing five of his 26.
Sam Martin had a solid year for the Lions, ranking ninth with a 40.1 net average and pinning opposing teams within the 20 a total of 29 times. However, Martin did shank one for ten yards near the end of their Dallas game, which gave the Cowboys decent field position. They later drove the ball down the field to gain a lead that they would never lose, but you cannot put all of that on Martin.
Jeremy Ross did a good job in the return game, ranking 10th and 11th in kick and punt return average, respectively. Ross had no return that went for more than 41 yards and no touchdowns, but lost no fumbles.
Grade: C-
Overall
The Lions had their fair share of struggles, but they still ended up with a 11-5 record and a wild card spot. Had one play or two been different, they may have been able to make it a little further, but this was still a good year for the Lions. They must now focus on resigning key players, most notably Ndamukong Suh, and make a run for the playoffs next year.
Grade: B