Jacksonville Jaguars: Grading Each Pick Of The 2015 NFL Draft
The Jacksonville Jaguars took on the 2015 NFL Draft with a systematic and strategic approach. In the past under questionable leadership, Jacksonville has made some terrible moves in the draft. In 2011 the Jags' drafted quarterback Blaine Gabbert from Missouri, who under-performed as an NFL quarterback. There was also that time they drafted a punter in the 3rd round. You've seen the NFL memes mocking the Jaguars', you've seen the fans with paper bags on their heads, you've seen the empty stadium photos, and you've seen the Jaguars record over the last 3 seasons. Jacksonville has been the laughing stock of the NFL for the last 4 years. New owner Shad Khan has had enough, and it investing time, money, and patience in this Jaguar team. The result are starting to break through the cloud of disappoint that is the Jacksonville Jaguars.
Now, the Jacksonville Jaguars find themselves in position to perform a well-executed sneak attack on the NFL. Quarterback Blake Bortles was a drastic improvement from Blaine Gabbert and Chad Henne. Jacksonville's receiving core also showed signs of life. Head coach Gus Bradley brought a defensive scheme that is working for Jacksonville. They changed logos, got uniform's that didn't look as if kids made them, they turned the stadium into a theme park, and they expanded globally playing overseas. Still there are pieces missing and holes to be filled. In the 2015 NFL Draft Jacksonville quietly and discreetly did what they were supposed to do. They drafted smart, it was a solid draft for the Jaguars'.
Dante Fowler Jr. - Grade A+
First, Jacksonville selected Dante Fowler Jr. Fowler is a defensive end from the University of Florida. Lately, Jacksonville has made it a habit of selecting local college players. It's a classy move; the fans know him, the fans like him. It brings a state-unity within the team. Fowler is the best all-around edge defender in this draft class. Minus the quick first step, Fowler is an all-around athlete and has more power as a pass-rusher. He does a good job setting the edge against the run, has a good motor and is versatile enough to play either on the line or in space as a 3-4 outside linebacker.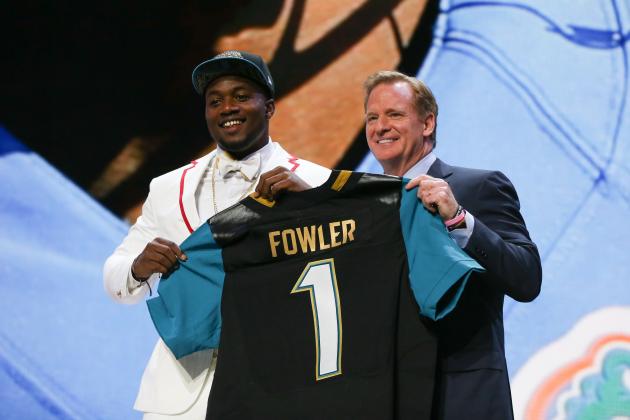 T.J. Yeldon - Grade A-
Secondly, The Jaguars selected T.J. Yeldon. Yeldon is a running back from the University of Alabama. After losing Jordan Todman to the Carolina Panthers, Jacksonville addressed the running back situation. Toby Gerhart struggled last season and Denard Robinson showed signs of life in the Jacksonville run-game. However, Jacksonville has no clear-cut running back capable of handling multiple carries on a weekly basis. Yeldon is a big back with some athletic ability to make some cuts to create lanes and make room to break through the offensive line. At 226 pounds he makes for an excellent blocker in the pass protection, something Blake Bortles will desperately need this season.
A.J. Cann - Grade A++
The third pick went to A.J. Cann for the Jaguars. A.J. Cann is an offensive lineman from South Carolina. It's no surprised they went with an offensive lineman. Jacksonville's offensive line has been bad, I mean really bad. Jacksonville added two offensive linemen in free agency, and they are not finished adding key pieces to that offensive line to protect Bortles. Cann was a four year starter at South Carolina and should compete immediately for a starting job on the Jaguars offensive line.
James Sample - Grade B-
With the fourth pick, Jacksonville selected James Sample. Sample is a safety from the University of Louisville. Sample ran well at the NFL Combine with a 4.56 40-yard dash. As mentioned, Sample played more of the box safety role at Louisville, but a lot of experts believe that he can play the free spot. At 6'2" and 210 pounds, Sample has excellent size and speed for the safety position. Smart pick; but, I think could have waited till possibly sixth round.
https://www.youtube.com/watch?v=qFLcAYBVJvA
Rashad Green - Grade B
The fifth round went to offense for the Jaguars as they selected Rashad Greene, a wide receive from Florida State. Staying within the state, Jacksonville has selected another wide receiver. This means, they could very well be closing the door on Oklahoma State stand-out Justin Blackmon. Jacksonville has drafted its fair share of receivers' these last two drafts. It would seem that Greene would play a slot position. While Green ran just a 4.52 in the 40-yard dash at the NFL Combine, he has shown the ability to get down the field and beat teams deep. Greene was the main threat on the FSU offense; he came up big for FSU in big games. His ability to play when the moment comes will be a plus for Jacksonville.
Michael Bennett - Grade A-
Jacksonville selected Michael Bennett in the sixth round. Bennett was a defensive tackle from Ohio State. Bennett was a Third Team AP All-American selection as a senior for the Buckeyes and a First Team All American on CBS Sports. At 6'2, 293 pounds, Bennett will project as a penetrating three-technique defensive tackle for the Jaguars and could be a five-technique as well. His experience helping Ohio State win a National Championship is also a big plus. Bennett was projected to be a second round pick; it was a surprise when he slid down to the sixth round. On May 2nd, Bennett tweeted out "Just creating a monster". That motivation will transition flawlessly on the Jaguars defensive line.
https://www.youtube.com/watch?v=SA-SR0Jt_Pg
Neal Sterling - Grade C
It would seem Jacksonville went rouge with their seventh pick. They selected Monmouth wide receiver Neal Sterling. To be honest, I have no idea about this player other than he's a complete giant. Sterling is a massive human being of a wide receiver, standing at 6'4" and 240 pounds. Sterling played 43 games for Monmouth, with 212 receptions for 2,615 yards and 22 touchdowns, so he was a productive player there. Sterling did have an impressive 4.58 40-yard dash at his Pro Day, working out for NFL scouts. One can assume he could be the future for an aging Marcedes Lewis for Jacksonville.
Ben Koyack - Grade C
Finally, the Jaguars finished the drafted by selecting Notre Dame tight end Ben Koyack. Koyack is a 6'5, 255 pound tight end who caught 30 passes for 317 yards and two touchdowns with the Fighting Irish as a senior in 2014.The Jaguars previously addressed the tight end position by signing Julius Thomas in free agency. The seventh round featured not only Koyack, but Sterling as well, who could be developed as a move tight end. It's clear that Jacksonville is looking toward the future with the last two picks.
Following the draft, Jacksonville added 9 rookie free agents. The list of undrafted free agent signings by the Jaguars is as follows:
Nick Marshall, CB, Auburn
Corey Grant, RB, Auburn
Thurston Ambrister, LB, Miami (FL)
Eric Crume, DT, Syracuse
Connor Hamlett, TE, Oregon State
Chris Reed, OL, Minnesota State
Matt Robinson, LB, Maryland
Todd Thomas, LB, Pittsburgh
Jake Waters, QB, Kansas State
Jacksonville came to the draft and conquered it masterfully. As a fan, you have to be excited about what this team could look like come September. I give this team and A for its draft this season. This could quite possibly be the best draft in franchise history for the Jaguars.
Overall Grade: A