2015 NFL Draft: Five Best Picks Of The Third Round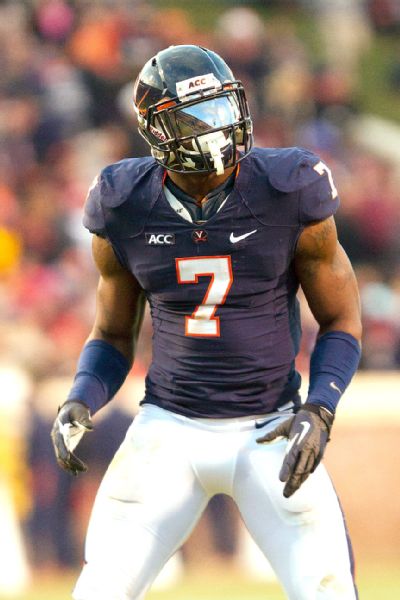 This draft class had a lot of talent, with plenty of first-round prospect seeping into day two. A player does not have to be a steal to be a great selection, as filling a need is important too, but pick value is widely seen as the best measure. All of the guys on this list were projected to go in the first round at one point, but fell due to character or injury issues, among other things. The on-the-field play by these players however, is unquestionable. Let us take a look at the five best picks of the third round!

5.) Eli Harold - OLB, Virginia

San Francisco 49ers, 79th Overall

The 49ers may not be the contenders they once were, but they seem to still be going with their strategy of getting luxury players in the early rounds. Eli Harold does not fill an immediate need, as Aldon Smith is one of the most skilled edge rushers while Aaron Lynch impressed as a rookie. Smith though, is on the last year of his contract, and Harold, a projected first-rounder could make for a solid replacement. Harold is unlikely to play at Smith's level, especially early on, but he still has the makeup of a quality player. This pick will save them money with just a small drop in play if they choose to let Smith go next year and promote Harold.
4.) Jaelen Strong - WR, Arizona State

Houston Texans, 70th Overall

The Texans' need at receiver became apparent when they released the 33-year-old Andre Johnson, but most suspected that they would get a player with more speed to complement DeAndre Hopkins. Jaelen Strong works too though, as his ball skills and playmaking ability made him a first-round pick in most people's eyes. Adding Strong to the mix will give the Texans a young, talented pass catching tandem that will give Ryan Mallett a real chance to succeed at quarterback.
3.) Carl Davis - DT, Iowa

Baltimore Ravens, 90th Overall

After trading away Haloti Ngata, the Ravens certainly looked like they were targeting a defensive tackle early in the draft. However, few thought that Carl Davis, a fringe first-round prospect, would be there for them in the third round. His lack of a pass rushing prowess may have pushed his stock down, but he will make for an excellent run stopper next to the two young and potent lineman already on the roster, Timmy Jernigan and Brandon Williams.
2.) Paul Dawson - ILB, TCU

Cincinnati Bengals, 99th Overall

Paul Dawson has some character concerns and lacks the athletic ability that so many teams covet, so he was bound to be overlooked early on. Dawson though, is one of the more impressive players on the field. I had him going to the Bengals in the first round early in the draft process, and while his stock has fallen a bit since, he is easily a steal at the end of the third round. Dawson will thrive opposite Burfict and should help shore up a run defense that often struggled last year.
1.) Tevin Coleman - RB, Indiana

Atlanta Falcons, 73rd Overall

The best third-round pick of them all is a running back that often ranked third just behind the two first rounders, Todd Gurley and Melvin Gordon. Some thought that a team was trying to trade back into the first to get him, but no one picked him up in the second. T.J. Yeldon and Ameer Abdullah were both selected before him and the back-needy Falcons were able to snag him up with their third pick.