Baltimore Ravens: Grading Each Pick Of The 2015 NFL Draft
1 (26): Breshad Perriman - WR, Central Florida

Breshad Perriman was one of the fastest risers in the draft, often being projected to go early in the first round after running a 4.25 at his pro day. However, he fell to the Ravens at 26, who needed speed at the receiver position after losing Torrey Smith. He is prone to drops and has little experience running complex routes, but his physical makeup should allow for him to develop in those areas. Corner could have been an option here, but this was the best pick.
Grade: A-

2 (23): Maxx Williams - TE, Minnesota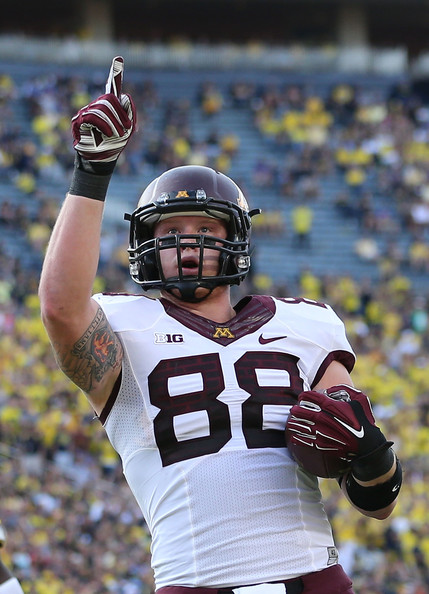 Tight end did not look like a primary need for the Ravens, but Crockett Gillmore does not look like a consistent receiving threat while Dennis Pitta has been dealing with injuries. Maxx Williams is not much of a blocker, but he can be the receiving threat that the Ravens want at the tight end position. With his speed and hands, he will give their passing attack a boost.
Grade: B

3 (26): Carl Davis - DT, Iowa
Carl Davis was expected to go late first to mid second, but he ended up going near the end of the third round to the Ravens, who needed a big defensive lineman after losing Haloti Ngata. Davis is not much of a pass rusher, but he can make for an excellent run stopper. With Brandon Williams, Timmy Jernigan, and now Davis, the Ravens have one of the youngest and most talented defensive lines in the league.
Grade: A

4 (23): Za'Darius Smith - DE, Kentucky

Za'Darius Smith is a tweener, at 6-foot-4 and 274 pounds; he does not have the burst to make much of an impact outside while he is too small to play down on the line. He does play strong and hard though, so he should be able to contribute as a situational pass rusher. In the fourth round, this is decent value, but it would have been better if they got a guy with starting potential.
Grade: C+

4 (26): Javorius Allen - RB, USC

Javorius Allen is not a flashy player, but he is adequate in most areas. He will likely not be a future starter or the guy they promote if Justin Forsett struggles to repeat his 2014 season, but he can be a quality backup. He is a reliable runner that could churn out extra yardage with his surprising slipperiness.
Grade: B-

4 (37): Tray Walker - CB, Texas Southern

With his length and ball skills, Tray Walker has some natural ability, but he is incredibly raw. The fourth round may be a bit early, but if he pans out this could prove to be a steal. His lack of speed and man coverage skills could hold him back, but he has some good cornerback traits.
Grade: C

5 (35): Nick Boyle - TE, Delaware

Nick Boyle has good size, with the ability to be a quality blocker and reliable pass catcher. He lacks playmaking ability, but he can work as a complementary guy. With Maxx Williams and Crockett Gillmore already on the roster though, he may not be able to find a way to make contributions on offense. Even Dennis Pitta, albeit struggling with injuries, will be ahead of him.
Grade: D+

5 (40): Robert Myers - OG, Tennessee State

Robert Myers is a thick guard that will be a backup for the Ravens. With Kelechi Osemele and Marshal Yanda already on the squad, they did not need a starter. Myers though, holds more potential than most fifth-round picks. He has enough technique to be a reliable backup and could develop into a possible replacement for the soon-to-be 31-year-old Yanda.
Grade: B-

6 (28): Darren Waller - WR, Georgia Tech

Darren Waller is as raw as late-round prospects can get. At 6-foot-6 and 238 pounds though, he has the size to impose his will on cornerbacks in the NFL. Some see him as a possible convert to tight end, but he possesses good speed for his size. He can high point the ball and plays with a good level of physicality, but his routes unpolished and he does not always properly position himself. He could be just another late-round pick that does not amount to much, but he has the potential to make it big.
Grade: B-